Projection Screen Hire & Sales Brisbane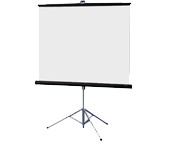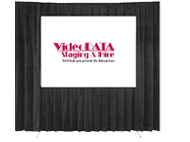 Tripod Screens
1.8m (6′) Screen (Portable)
2.4m (8′) Screen (Portable)
Optional Extra – Black Velveteen Drape to hide tripod
---
Pull Up Screen
1.5m (5′) Screen (Lightweight, Portable)
2.1m (7′) Screen (Lightweight, Portable)
---
Fastfold Screens
2.4 x 1.8m (8′ x 6′) Screen with Drape Kit
3 x 2.25m (10′ x 7.5′) Screen with Drape Kit
3.6 x 2.7m (12′ x 9′) Screen with Drape Kit
Rear Projection available
4:3 or 16:9 Aspect Ratio's available
---
All the above screens are used with Data Projectors and we have the right projector for all these screens within our hire stock. Please refer to our page on Data Projectors.
Projection on to a screen is suitable for all kinds of events including:
Tradeshows to run video presentations
Exhibitions to show product information
Boardroom Presentations for power point presentations
Conferences both big and small
Weddings/Anniversaries/Birthdays to show home videos or photos – See our specials page for more information
Tripod screens are a portable, free standing, easy to erect screen and with the bottom drape are suitable for all kinds of presentations including private functions.
Pull Up screens are a portable, free standing, easy to erect screen with a small foot print. These screens are particularly handy in places where space is a issue. For example these screens are handy in small rooms at restaurants as they stand close to the wall and there is no issue with tripod legs poking out for people to trip over as they move around tables.
The fastfold screens look great with the drape kit and while they are free standing, they need to be erected. These screens are good for larger conferences and events.
Please call our office today on (07) 3846 7600 to discuss the many options regarding screens and projectors.